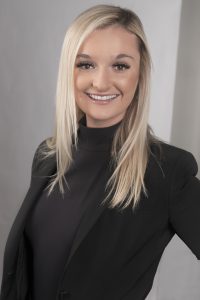 Russ Lyon Sotheby's International Realty is dedicated to bringing the highest level of service to today's home buyers and sellers. This tradition continues with the recent addition of luxury real estate agent, Morgane Baldwin, to the Pinnacle Peak office.
Russ Lyon Sotheby's International Realty agents strive to deliver real estate experiences beyond expectations to enhance lifestyles for their clients, expanding their reputation as the most respected name in real estate.
Morgane was raised on the Central Coast of California. She grew up in an entrepreneurial family where she learned the value of hard work to achieve her business goals.
Since graduating from the University of Arizona in Psychology, Morgane settled in North Scottsdale at Kierland to begin her real estate career. Since then, she has focused on the marketing of premium estates and properties.
She is a self-starter, a team player and enjoys working in the ever-changing real estate industry. She looks forward to helping her clients make all of their real estate dreams come true.
"I am looking forward to starting my Real Estate Career with Russ Lyon Sotheby's International Realty and I am excited to be working under a world-renowned brand."
Russ Lyon Sotheby's International Realty has gathered realty experts in the field of luxury real estate dedicated to the ideals of integrity and professionalism. Additionally, the seasoned management innovatively supports the efforts of the company's agents to create a dynamic and inspiring atmosphere that invigorates and hones the skills of everyone involved.
"We are very excited to have Morgan join us at the Pinnacle Peak Office. Morgane's exuberant personality and clear commitment to her real estate career is clearly evident to all of us" said Branch Manager, Kevin Gonzales. "We know Morgane will find much success here at Russ Lyon Sotheby's International Realty, and we are so happy that she chose our Brokerage to expand her real estate efforts."